… and am absolutely LOVING the nourishing support provided in the Modules and on the Q&A calls! I encourage YOU to check it out if you long to share what you're passionate about with others in sustainable ways … earning a living by teaching what you know to those who long to learn and you can save $100 if you register before January 18th.
If you long to teach – or to renew your passion for teaching, or to stoke the profitability of the way you teach, TeachNow is the best course ever.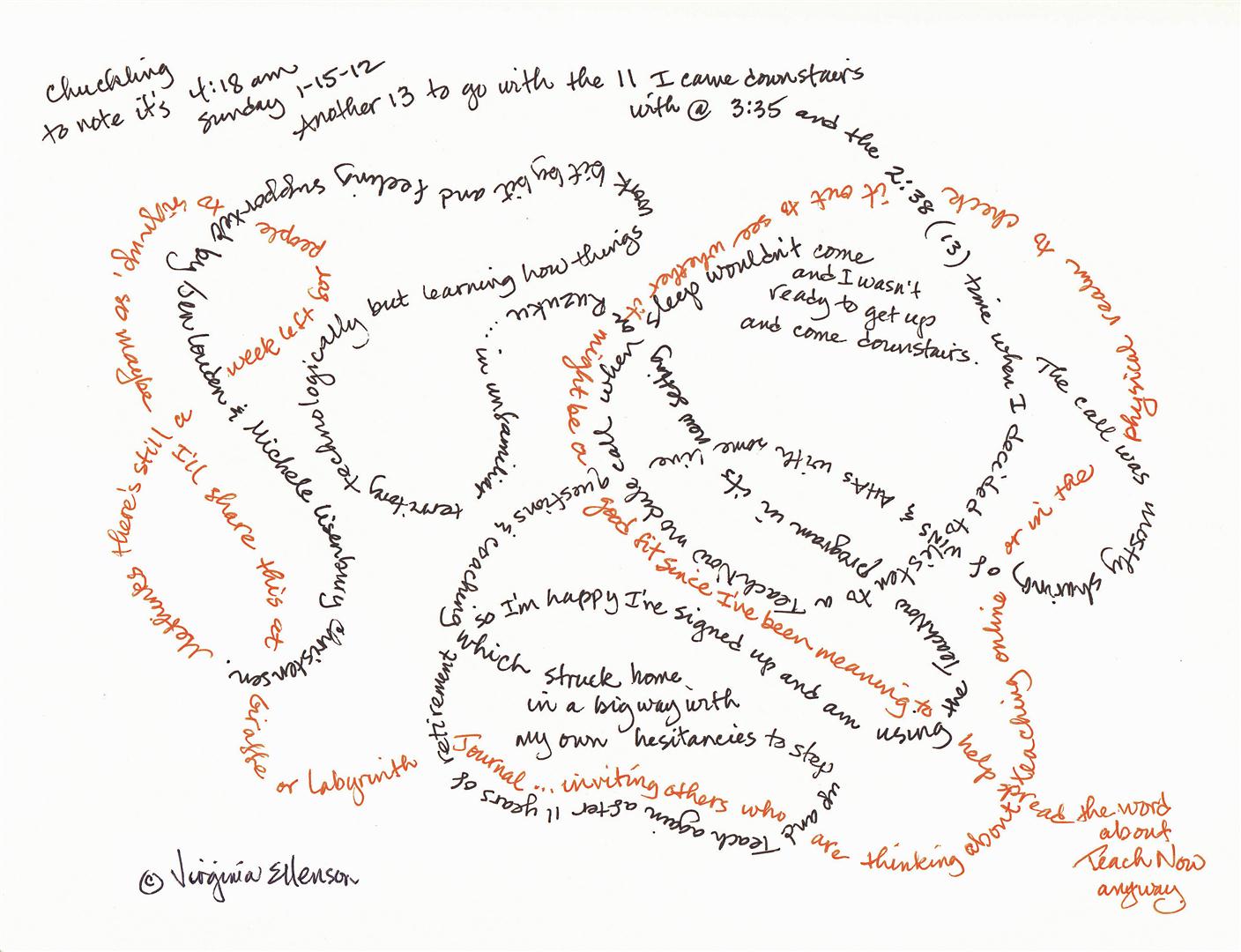 Click to hear me read this piece now:
Many of you know me as a 'happily retired' teacher and writer who feels called to share a unique Labyrinth Writing process with others. What's been fascinating for me to realize is just how hesitant I am to jump in and ACT on that impulse after eleven years of retirement. Of course I have the skills and the knowledge. Methinks I'm more afraid of being overwhelmed by success than encountering failure and believe Marianne Williamson was right when she wrote the following:
Our deepest fear is not that we are inadequate. Our deepest fear is that we are powerful beyond measure. It is our light, not our darkness that most frightens us. We ask ourselves, Who am I to be brilliant, gorgeous, talented, fabulous? Actually, who are you not to be? You are a child of God. Your playing small does not serve the world. There is nothing enlightened about shrinking so that other people won't feel insecure around you. We are all meant to shine, as children do. We were born to make manifest the glory of God that is within us. It's not just in some of us; it's in everyone. And as we let our own light shine, we unconsciously give other people permission to do the same. As we are liberated from our own fear, our presence automatically liberates others.
So … I relish the support, encouragement, information, and authentic 'modeling' of Jen & Michele as they teach this program again and again. It gets richer all the time and what they've created at Rizuku is a wonderful community of teachers that I'm delighted to be a part of. If you're a teacher already and would like to enhance your skills … or if you'd LIKE to be more comfortable sharing what you know with others … this program is definitely worth checking out as soon as possible because you save $100 off until January 18th — the course is currently $298.
TeachNow is a digital, self-led program for anyone who longs to share their passions – whether you're an established teacher or simply would love to teach one day. Michele and Jen expertly weave interviews with master teachers – Natalie Goldberg, Sharon Salzberg, Christina Baldwin, Elizabeth Lesser, Mark Nepo, Parker Palmer and many more – together with the nuts and bolts of teaching. More importantly, they address the heart and soul of teaching: the inner work that makes your teaching powerful and effective. I listen to, am inspired by, and learn from these amazing interviews over and over again.
Jen Louden wrote a bestseller when she was 29. Michele Lisenbury Christensen was a prodigy at 23. In the many years since then, they've taught and taught. Oh, and suffered. Now, to help you teach in less-expensive, more sustainable ways, they've created TeachNow, including interviewing more than three dozen revered teachers. I initially signed up for the interviews, but now I love the whole program so much I've registered as an alumni! I hope you'll take a few minutes to read about it so you can see if the program is a 'fit' for you.
Thought for Today
"The teacher who is indeed wise does not bid you to enter the house of his wisdom but rather leads you to the threshold of your mind."

Kahlil Gibran